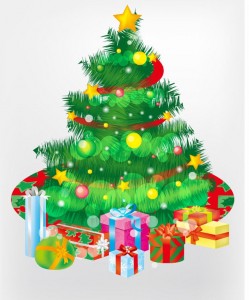 A natural Christmas tree's beauty can last more than a month if a few easy steps are taken.
•Once the tree is home, store it in an unheated area or leave it outside away from sun and wind. If it is baled (wrapped), leave it in its netting until it is in your house or lay your tree on an old sheet and wrap it for transport.
•Before setting up the tree, make a new cut 2 cm above the original cut if the tree has not been felled within the last 6 hours.   This ensures that the pores are open and water will be absorbed.
•Water the tree daily. Use tap hot water the first time to open pores and never ever let the tree run out of water. At first, the tree will drink up to 4 litres a day before tapering off.
•Avoid needle drop by cleaning the loose needles out before setting it up, either at the farm or outside your house. Brush loose needles off by reaching inside the tree, especially cleaning around each whorl. Bang the tree down on the stump when temperatures allow, above freezing.
Don't let your tree be without water; it will dry out and drop needles.